Trillium Workshops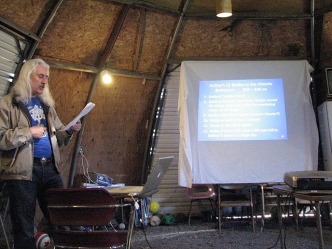 (All workshops are in the Dome unless otherwise noted.)
Interested in teaching a workshop? Contact us with information about your workshop, whether you will need any special equipment, or if there are any supply fees that attendees will need to know about.
Workshops 
To view times for these workshops, go to our online schedule.
What we make, makes us. An exploration of the myth and magic of physical creation.
An in depth exploration of the metaphyics behind physical creation. We shall discuss the physical and magical process by which anything and everything is made. From the stories of the creation of the world from various Indo-European traditions.  To the methods by which we humans create new objects for magical and everyday use.
Chris Henderson
Chris Henderson has been a member of ADF since 2009, and a practicing druid since high school. He currently lives and works in central Virginia, where he has the honor of serving as Senior Druid of The Grove of the Seven Hills and Scribe of the ADF Warriors Guild.
Crafting the Main Ritual
Join in the planning for Saturday's ritual. Main Ritual will be a collaborative affair. So, if you are interested in shaping it, come do it!
The Five Lights of *ghosti: The Gifts You Bring
A healthy community is supported by the gifts of its folk so that it may then support each of those individuals. There are many ways to engage in this *ghosti relationship. Many ways to give, and many ways to receive. We can give the Gift of Prayer. We can give the Gift of Inspiration. We can give the Gift of Community. We can give the Gift of Wealth. We can give the Gift of Service. The more we strive to share these Gifts, the stronger our community will grow, and the more fulfilled we will be in Our Own Druidry.
The folk of ADF are its most valuable resource. Join Rev. Avende in exploring the gifts that you you can bring this community, and the ways you may pass on your gifts and knowledge to others.
Rev. Avende
Rev. Jan Avende is an Initiate and Priest dedicated to the Vision of ADF, and has been a member of both ADF and Three Cranes Grove since 2009. She is a talented Bard, Liturgist, and Spiritworker, and is active as an officer and member in many of ADFs subgroups. She uses her talents as a certified teacher to aid in mentoring folk and making the details of Our Druidry more accessible to all.
---
Children's Workshops
Creating and Tossing Seed Bombs
In this workshop, children will learn how to create seed bombs with a mix of appropriate non invasive seeds for the region and how to utilize seed bombs to spread bird, bee, and butterfly friendly seeds easily. They will also learn why this is needed and the basic environmental impact of growing more plants and flowers for our bird and bee friends.
Donald Smith
Donald and Crystal are owners of Copper Kettle Farms based out of Gettysburg, PA, and grow and cultivate various heirloom vegetables and garden-friendly flowers to sell to local flora enthusiasts. Donald has been a member of ADF since 2013 and Crystal since 2003. Crystal serves as Secretary of ADF and Chief of the Naturalists Guild. Both are environmental enthusiasts, heathens and avid farmers with a love for the natural order of the earth.