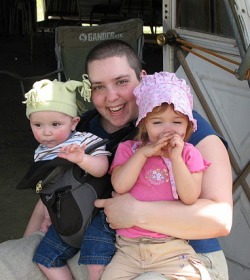 Accommodations
There are no cabins or lodging at Thor's Hollow Campground.  There are plenty of spots for campers with electrical and water hook-up, as well as RV dump station.
There is space for tent camping
There are flushing toilets near the main ritual area, as well as outhouse bathrooms scattered throughout the campground as needed
There are private showers in the outdoor bath-house
There are fire rings and firewood for purchase at the campground if you want to cook at your camp.  There is also a kitchen available but it will be utilized by the meal plan facilitators most of the weekend so it is not guaranteed or even suggested that it be made available for camp goers
There is an outdoor eating pavilion for meal plan dinners.  This is also used generally for our concerts and can be wrapped and heaters added if it is chilly
There is a children's play area with sandbox, swings, and toys. It is located close to all main events and workshops to allow our parents to stay close to their children and still find value in workshops
Handicap friendly, no large hills or stairs.  There is one ramp to reach the community kitchen but we are wheelchair friendly
There is a Liberty Gas Station 2-3 miles down the road with an ATM, pizza oven, alcohol, and essentials if you need them.
If you are unable to stay at the campground, but still wish to attend the festival, you can purchase lodging at any of the surrounding hotels.  Look for lodging in Winchester Virginia or Berkley Springs, West Virginia.  Both are along the 522 route that leads to Trillium and are 10-20 minutes away, depending on where you choose.
We will have a hospitality tent available with snacks, hot water for tea, and 24/7 coffee for attendees as a courtesy. If you see the coffee pot empty, you are always welcome to help keep it full and keep the coffee flowing 🙂
Checklist – Suggested items to bring to Trillium?
Groves:
If willing, an item to donate to the silent auction to support the campground in the name of your Grove
Ritual garb if preferred
Individuals:
Dishes for eating with, including an insulated mug for hot drinks on late cold nights.  Your own food if you are not signing up for the meal plan.
Warm clothes and blankets for the evenings and sunscreen for the daytime.  Weather varies quite a bit this time of year in this environment.  It has been beautiful sunny weather, rainy weather, and extremely chilly.  It is suggested you prepare for everything.
Extra cash for vendors, purchasing sodas from the campground, potential extra workshop costs, or if you need to run out to the convenience store down the road
A donation of toiletry items if you wish for the bathrooms
Entries for any contests (brewing) or exchanges (seed exchange)
Stories and songs for the bardic circle
A chair for sitting around the fire.  There are some chairs available in the eating area and wooden picnic tables at the camp sites, but it is still strongly suggested to bring your own chair.
Offerings for the main ritual praise offering period
A method of taking notes during workshops.
Some form of lighting for around your campsite and to navigate the campground at night.
Your own supplies for washing your own dishes either at the washing station at the bath-house or at your own campsite
Earplugs if late-night drumming may interrupt your sleeping
If you want an electric hook-up for your cellphone or electronics, don't forget to sign up for one during registration.  You'll want some form of extension cord to your camp from the electric hook-ups at the campsites.
Volunteer at Trillium!
We are always looking for volunteers to help run the registration table and other tasks around the festival.  Please help out by signing up for a work task at the registration table, or contact us ahead of time.