Trillium Workshops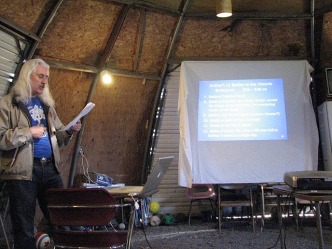 (All workshops are in the Dome unless otherwise noted.)
We will be having several opportunities for "Study Halls" during the Trillium Festival.  Volunteers will be bringing books from their personal libraries to share during these study hall times to help you through your study programs within ADF.  You are also welcome to bring a book to share, but please make sure your name is listed in the book so we can make sure it is returned to you.
Interested in teaching a workshop? Contact us with information about your workshop, whether you will need any special equipment, or if there are any supply fees that attendees will need to know about.
Workshops 
To view times for these workshops, go to our online schedule.
---
Spirit Pathways Through the Landscape
Adam Davis
You are invited to join us in exploring multiple ways of working with energies and beings of the sacred landscape. We will physically and shamanically journey across and through Appalachian ridges and midslopes, conversing with aspects of nature as we go. We will employ observations, ecstatic trance, and other shamanic techniques to enhance our awareness and develop relationships with the land energies and nature spirits. Among the many alchemical potentials in this work, we can engage the land energies in our considerations of personal, communal, and familial responsibility. See more information about this and other workshop types of the Connecting with the Land Series.
Adam Davis has been facilitating spiritually-oriented connecting with the land workshops at a variety of festivals and gatherings since 1998 in addition to teaching Earth science college courses. He combines multiple perspectives in working with nature and is committed to helping others find fulfillment through engaging magic in the landscape. For more information about Adam's work, check out his book: "Connecting with the Land: Nature Relationships in Multiple Dimensions".
---
Lying Gods
Wayne Keysor
Do gods lie to their devotees? If so, in what situations? And what does this mean for contemporary practice? This workshop will present a theological analysis of the consequences of lying gods to our current practice. It will present and categorize various examples of gods lying to humans in the lore and then open a space to discuss whether we should take seriously the idea of lying gods in contemporary Paganism. It will also examine the various approaches we might take to lying gods, and test the proposition that lying gods are problematic for a religious tradition that heavily depends on the personal experience for knowledge of the divine, especially in circumstances where consensus must be forged over rival theological claims. This workshop actively seeks the views of the participants, and will feature ample discussion.
Wayne Keysor has been a member of ADF since 2008. He has completed his Dedicant's Path, as well as the Generalist Study Program, and is an ADF Journeyman Bard. He is currently working on the Initiates Program. He holds a B.A from St. Lawrence University in Philosophy, an M.A. from Notre Dame of Maryland University in Liberal Studies with a specialization in Philosophy and Religion. He is currently studying the Latin language and its literature at the University of College Park Maryland, so if you see him staring despairingly at a book, he is probably doing his Latin homework. Please interrupt him.
---
Waking the Mighty Dead: An Exploration of Technologies
Cat Heath
In the modern world, magic and religion are considered by many to be separate. However, magic has always formed an integral part of traditional spiritual practice, and there is much to be learned from ancient magical sources about not only the magical technologies of the time, but also the religious. In most cases, it is possible to discern themes and ritual technologies that can then be applied to our modern rituals, workings, and cults.
In this workshop, I will be giving an overview of some of those themes and ritual technologies pulled from accounts of necromantic rites, ancestor cult rites, and archaeological evidence. It is my aim with this workshop to introduce attendees to techniques that they can then incorporate into their own rites in honor of the Mighty Dead.
Cat Heath has been a member of ADF since 2013 and is currently working on the Initiates Program. A longtime Heathen who remembers the bad internet handles of the mid-90s, Cat is a proud member of both Hallowed Ground Protogrove and Great Valley Kindred.  Cat may be blamed for multiple workshops on magical topics at various Heathen events and has also authored a book. She keeps a blog at Seo Helrune.
---
Seasonal Festivals in the Dievturi (Latvian/Baltic Reconstructionist) Tradition
Andris Rūtiņš Dievturi
Latvian (Baltic) reconstructionst Pagans, base their practice on traditions still common among Latvians today augmented by rites documented in ethnographic, folkloric and historical sources. The calendar is built around the eight-spoked solar agricultural cycle and anchored by the two solstices. At summer solstice the sun is above the horizon for 18 hours in Latvia; at winter solstice, there are only 6 hours of sunlight. Solstices are liminal, when the veils between the parallel worlds of the living, the dead, and the spirits are thinnest and most readily traversed. Latvians hold onto their place in the universe with sympathetic magic, most often invoking the sun with fire, song, and dance. Winter celebrations are characterized by guising, in which masked mummers enact the eternal dance between dark and light while offering a vehicle for the shades to walk the earth again and bless it. Dievturi also celebrate birth, marriage and death.
I am an artist and teacher active in Latvian Church Dievturi (Keepers of God) in the U.S. and Latvia over three decades. Latvian reconstructionst Pagans organized in 1925 to revive and popularize the spiritual legacy received from their ancestors to complement the recently standardized language and the newly founded Latvian nation-state. Dievturi believed that Christianity had been imposed on Latvia and its neighbors Estonia and Lithuania as a tool of foreign conquest beginning with the Northern Crusades in the 13th century. They proposed a Latvian indigenous religion based on folklore and historical chronicles. We have continued to develop that vision.
---
Mentoring within the Grove
Over our 25 year history, Sassafras Grove has produced many accomplished Liturgists and Ritualists from among our membership. We base our ritual training primarily on mentorship, both official and unofficial, are we are delighted to have been asked to share our philosophy, experience, and methods with the Trillium Gathering.  
Diane "Emerald" Bronowicz, Michelle Handa, and Diane Watson currently serve as the Senior Druid (Spiritual Leader), Steward (Administrator), and Pursewarden respectively of Sassafras Grove along with writing and leading rituals for the Grove.
---
Life-Spirituality Balance
Reverend Michael Dangler
Balancing life and spirituality can be complicated, but it's really an innate skill that we all have. It's not just about balancing your work within your own family unit, though, but also in about finding a space that is welcoming, diverse, and understanding of the virtues of focusing on those who you depend on, and who depend on you. In this workshop, we'll discuss the integration of kids into ritual, both public and personal; the creation of resources for kids who follow the paths of their most direct ancestors (their parents and grandparents); and how to holistically support families when they attend our rites and enter into our work. This workshop is targeted at both the householder with kids, and the leader who has attending parents at their events.
---
Children's Workshops
Paper Lantern workshop
– come build a working LED paper lantern for the Shining Ones! 

🙂
 we will use completed lamps to light the Ve in the evening as the last task before the kids all turn in (bedtimes depending).
Stick-a-Palooza! – Using found/recycled/reclaimed materials, we will create personalized wands, tools and walking sticks ((that we could bless in our Children's Ritual if needed)).
Egg Hunt – Filled eggs are hidden around the main pavilion, the playground, and the geodesic dome/firepit area (but not too close to the fire!), and the bathroom building. Kids will search for and collect the eggs. In one (or more) of the eggs, will be a ticket for a special prize (usually just a slightly larger than hideable-in-an-egg amount of chocolate).
Activity Table – We will ahve crafting and science experiment activities throughout the weekend. We can dye eggs, create goods from found nature objects, make stained glass windows, even make peep slime! Possibilities are endles!